Hawaii's own Ezekiel Lau, 20, posted the largest victory of his young career today by winning the prestigious 39th annual VANS World Cup of Surfing at Sunset Beach - the second stop of the V...
Leer mas
Estimados Todos. Luego de saludarlos, me permito hacerles la cordial invitación a la Ceremonia de Premiación del Circuito Ecuatoriano de Surf 2013, que se realizara el día Lunes 09 de Dici...
Leer mas
Wanning Hainan Island, China - Piccolo Clemente (PER) is the newly crowned 2013 ASP World Longboard Champion after winning the CITIC Pacific Riyue Bay ASP World Longboard Championships hosted by Wan...
Leer mas
Desde el jueves 28 se realizó la 7ma fecha nacional de surf, cerrando el circuito 2013 y definiendo a los campeones del año. Inicialmente estaba organizada la competencia en Pedernales, pero ...
Leer mas
La International Surfing Association se enorgullece en entregar a cincuenta prometedores jóvenes surfistas (entre los 9 y 17 años de edad) de 25 países alrededor del mundo con la prestigiosa Beca Indi...
Leer mas
Debido a los gravísimos incidentes ocurridos en el cantón Pedernales, donde la población civil atacó y destruyó el retén policial, los organizadores del campeonato, el club "Medio Mundo", decidieron...
Leer mas
Con el aval de la Federación Ecuatoriana de Surf, Pedernales se viste de fiesta y espera con los brazos abiertos a los competidores de todo el Ecuador, a la 7ma fecha del circuito nacional, cerrando c...
Leer mas
Dominic Barona sorprendió en el surf de los XVIII Juegos Bolivarianos Trujillo 2013, al llevarse la medalla de oro venciendo a las dos favoritas locales en la modalidad de longboard. La surfista ecua...
Leer mas
North Shore, Oahu -- Tahiti's Michel Bourez has won the Reef Hawaiian Pro, the $40,000 prize purse, and takes an early lead of the Vans Triple Crown of Surfing hydrated by vitaminwater®. Bou...
Leer mas
I have always sprayed most of my personal boards. I am self-taught and I can only do solid colours and rail fades or tape-ups…basic stuff. When i did the Free Ride boards it took me a week! ...
Leer mas
La International Surfing Association (ISA) es complace en anunciar el VISSLA ISA World Junior Surfing Championship (WJSC) 2014, que se llevará a cabo en Salinas, Ecuador, del 5 al 13 de Abril de 201...
Leer mas
The desperate search for a big wave surfer and Carlsbad native who vanished in dangerous conditions continued on the North Shore of Oahu. Police have identified the missing man as Kirk Passm...
Leer mas
Surf Travel Ecuador, Costa Rica and Portugal added by Wavecation vacation rental 8 November, 2013 - Surf vacation rental company, Wavecation.com, recently listed it's 400th property. ...
Leer mas
Surfline's forecast for the coming week of competition Vans Triple Crown of Surfing Significant North Swell Episode Forecast For Next Week  8 November, 2013 - Surfline.com, ...
Leer mas
Mason Also Wins Round of 64 Wildcard Into Vans Triple Crown Of Surfing  9 November, 2013 - Sunset Beach, Oahu - With the DNA of a Sunset Beach surfing champion, 25-year-old Mason Ho f...
Leer mas
The 29th annual Quiksilver In Memory of Eddie Aikau, the original one-day big wave invitational surfing event that requires waves measuring in excess of 20 feet, is excited to announce the l...
Leer mas
5 November, 2013 - Italians are known internationally for the beautiful land they call home, their tasty culinary contributions and for being one of the most hospitable family-oriented ...
Leer mas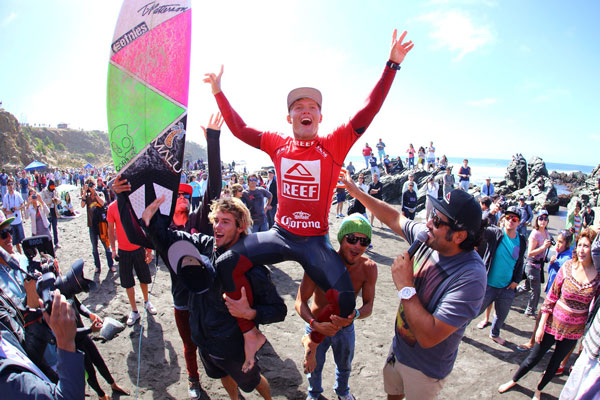 Siguiendo los pasos de su compatriota y amigo, Anthony Fillingim, Noe Mar McGonagle (CRI) se consagra doblemente Campeón en el Reef Classic Latin Pro Chile, evento que repartió US$ 25.000.00...
Leer mas
LIHUE, Hawaii - A 25-year-old Hawaii surfer and former boxer went toe-to-fin with a shark off Kauai and survived. Jeff Horton was surfing Sunday morning with about 10 others near Kilauea when someo...
Leer mas
Nazaré North Canyon © Hélio Valentim   Video Updates Portuguese spot delivers one of the biggest swells in memory  29 October, 2013 : - - Portugal's Nazaré North Canyon came to life on October 2...
Leer mas